Ref:
Date:
Location:
Photographer:
Ref:
Date:
Location:
Photographer:
Our Artists
Edinburgh Photo Guy
Paul Cunningham is from Edinburgh and his passion for photography has developed over the last few years after co-founding Edinburgh Historic Tours. Showing tourists around the historic buildings and closes in the city ignited his imagination and inspired his photography. Paul doesn't see himself as a mainstream photographer, he prefers to try different aspects of photography and not keep to the 'norm'. Thus he has developed a talent for 'people watching' and produced some fantastic street photography.
www.edinburghphotoguy.com
John Dickson
John is enjoying his retirement which allows him to indulge his passion for photography and painting. As well as some of his stunning photography in our gallery we are also exhibiting some of his paintings of old Edinburgh streets. John is inspired by his massive book collection (some 400 books!) on old Edinburgh which he avidly collects and reads. John is also a keen musician and plays the guitar and sings in a band.
Don Munro
Don is an Edinburgh born local photographer. His love of travel has taken him around the globe but his real passion for photography shows through his images of Edinburgh.
Don has photographed many events in the city and his images have been published by the BBC, STV, The Scotsman and Landscape Photography Magazine, as well as other photography and local publications. Don Munro views himself as a life-long student of photography. He looks forward to the continual process of learning and growing and hopes that the enthusiasm which he has for photography can be used to encourage others.
Every year Don hosts several Edinburgh Photo Walks. These fun photo walks allow fellow photographers of all levels to meet, make friends, share ideas, swap tips, enjoy Edinburgh and of course take lots of photos along the way.
www.edinburghphotowalks.com
Ratho Byres Forge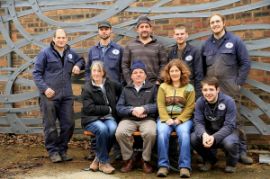 Ratho Byres Forge is a locally run family business. Each piece is individually hand made using a combination of metal working techniques from ancient times, contemporary design for today and the innovative use of modern technology.
All these factors give the Forges' metalwork a recognisable style and a reputation for quality which is second to none in Scotland. the work, both functional and sculptural has won many prestigious awards. It has been sold and exhibited throughout the UK, Europe and North America and can be discovered in many homes and public spaces in towns and cities throughout Scotland and the rest of the UK.
www.rathobyresforge.co.uk
Edinburgh Sketcher
EdinburghSketcher, Mark Kirkham is an illustrator and designer living in Edinburgh. Using a wide range of mediums including ink, watercolour, pencil, oil paint, charcoal and collage he has created unique and beautiful sketches which can be purchased as prints, cards, postcards, and also cushions, tea-towels and mugs. Mark also commissions sketches and can be contacted through his website.
www.edinburghsketcher.com
Janet McCrorie
Janet was an arts and crafts teacher for many years before progressing into developing her own style of painting. After studying with The Open College of the Arts and at Leith School of Art, she is now a full time artist.
Her main theme is Scottish Dancers and Janet uses mixed media to describe the unique look of the tartan and to capture the movement of the dancing. Her aim is to invoke a sense of pride and nostalgia while putting a modern twist on these ancient, traditional dances. Many galleries throughout Scotland are now showing Janet's work and her paintings have been sold internationally. St Columba's Hospice has used Janet's paintings for cards and calendars and The Royal Scottish Country Dancing Society have used them to illustrate their annual review. Originally from Lanarkshire, Janet now lives in East Lothian and works from a studio in her home.
www.janetmccrorieartist.co.uk